FAQ
1.Health examinations / complete checkups
1-1.
How to have health examinations, complete checkups, etc.
1-1.
Details can be found here.
* Only Japanese version available
2.Cafeteria points
2-1.
What is the health activity menu?
2-1.
We provide menu items from many fields via a point system, and this system enables you to freely select and use necessary items within the range of the points you have been given.
2-2.
I started working at my company in the middle of the fiscal year. How will points be given to me?
2-2.
Points are given on a fiscal year basis (April to March of the following year) in line with the Health Insurance Society's budget.
If you joined your company in the middle of the fiscal year, you will be given points equivalent to the number of months remaining in that year.
2-3.
I plan to retire at the end of this month. Until when can I use my cafeteria points?
2-3.
You can use your points until your retirement date.
If you use your points on or after your retirement date, please note that you will be billed for the usage at a later date.

Approved point usage is limited to menu items used during enrollment.
In the case of traveling or health examinations, we only look at the actual usage date, so—even if you make an appointment before you retire—points cannot be used if the usage date is on or after the retirement date. However, when buying medicine or the like, the application date is the usage date, so you can use your points even in cases where you apply before you retire and then receive the medicine or other product after you retire.
2-4.
I want voluntary and continuous coverage after I retire, but can I use my cafeteria points?
2-4.
If you have voluntary and continuous coverage, you can continue using the points you earned while employed. In addition, your ID and password will be the same as when you were employed.
Cafeteria points can be used until the day before the date of loss of voluntary and continuous coverage.
2-5.
There are multiple types of cafeteria points, so please tell me which order they are used up in when I use services.
2-5.
Cafeteria points are used up in the order below regardless of the expiration date.
* However, when dealing with the same type, points are used up starting with the ones that have the closest expiration date.
(1)Bonus points (points given during various promotional campaigns)
(2)Given points (points given by the Health Insurance Society)
(3)Bought points
3.Specific health checkups and specified health guidance
3-1.
What are specific health checkups?
3-1.
Specific health checkups are checkups focused on metabolic syndrome. The Health Insurance Society has had an obligation to implement such checkups since April of 2008.
3-2.
What is specified health guidance?
3-2.
Based on the results of specific health checkups, we provide support to help review the living habits of persons who have a high risk of metabolic syndrome and have a good chance of preventing this syndrome by improving their living habits.
Specified health guidance includes both motivational support and active support depending on the level of risk. (For details, see Q3-7.)
3-3.
What is metabolic syndrome?
3-3.
Metabolic syndrome is mainly based on the accumulation of visceral fat and is characterized by the existence of overlapping risk factors that include high blood sugar, lipid abnormalities, and high blood pressure.
Even in cases where the checkup values indicate only minor abnormalities, overlapping risk factors can lead to a dramatic increase in the risk of cardiovascular disease, including heart attacks and strokes.
Metabolic syndrome judgment standards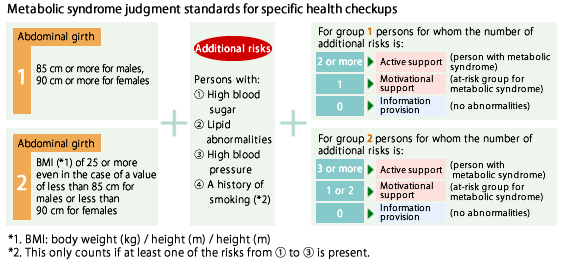 3-4.
Does everyone have specific health checkups?
3-4.
Insured persons and dependents who will reach their 40th to 74th birthday by the last day of the fiscal year of implementation are eligible for specific health checkups. Checkups for persons who are 75 years old or older are implemented by the regional alliance for the medical care of the advanced elderly, which was established in April of 2008. Checkups for persons who are less than 40 years old are the same as usual.
3-5.
Are specific health checkups conducted separately from the usual health examinations?
3-5.
If you have a complete checkup at a checkup facility that has a contract with the Health Insurance Society, the specific health checkup items are covered, so just have a health examination as you always have.
3-6.
Do I have to pay the cost of a specific health checkup?
3-6.
The cost of a specific health checkup is included in the fees for a complete checkup, so there is no change to the conventional health examination cost burden.
3-7.
What happens after I have a specific health checkup?
3-7.
Approximately one month after you have a specific health checkup, the implementing institution will send you your checkup results as well as information on appropriate living habit improvements. The checkup results will also be sent to the Health Insurance Society, and we will then judge the risk of metabolic syndrome based on the judgment standards in Q3-3 and provide health guidance (for which the Health Insurance Society will pay the full amount of the costs) in line with one of the three levels below (no abnormalities, at-risk group, or afflicted member).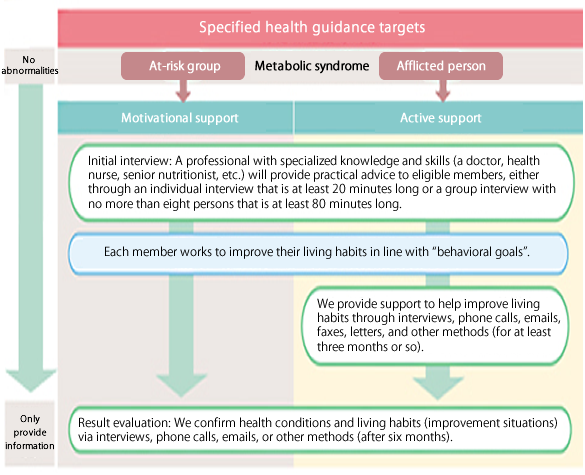 3-8.
Is specified health guidance compulsory?
3-8.
Specified health guidance is provided with the consent of eligible members, and—in order to help reduce medical care costs—we encourage everyone to actively participate as an opportunity to manage their health and review their living habits.
3-9.
Will my personal information be kept confidential?
3-9.
The Health Insurance Society has an obligation to strictly manage checkup and health guidance result data in accordance with the Act on the Protection of Personal Information, and we also manage such information in line with our own personal information protection rules, etc. In addition, institutions that implement checkups and health guidance as subcontractors for the Health Insurance Society must also follow our personal information protection rules and are required to protect the private information of examinees, etc., with any failure to do so resulting in legal penalties similar to those faced by the Health Insurance Society.